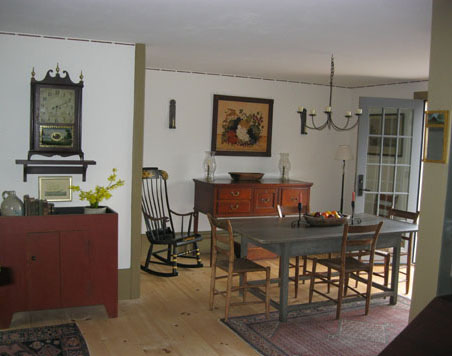 As of 2012, after months of intensive interior decorative painting, nationally-recognized artists, Hope and Fred Angier, have drawn upon 30-years of accumulated experience, working with clients, producing and selling artwork, restoring three antique houses of their own, and living aboard a 43' ketch, to create a "work of art " embodied in their new home located in Hope, Maine. In its beautiful, private, yet open setting, the house exudes state-of-the-art efficiency, low-maintenance and functional simplicity while evoking warmth and comfort throughout its interior through the artists' use of color, detail and design.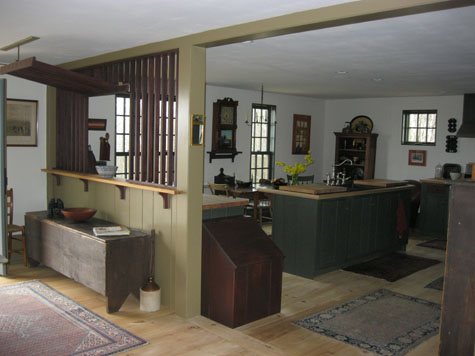 Entering this unique, hip-roof, up-side-down house, built specifically to take advantage of the expansive views from every window, you will be treated to the Angier's tasteful artwork, including murals, ship paintings, trompe l,oeil windows, checkered floors, decorated furniture, painted cabinets, and more. The use of a variety of subtle painting techniques makes newly-milled pine sheathing boards look like rich mahogany and poplar drawer-fronts resemble tiger maple. Each room, filled with collectibles, antiques, and the Angier's original art, has its own distinctive personality while the house, as a whole, is cohesively connected and pleasantly understated. The home and its setting offer a feast for the eyes whether looking inside or out.
Hope and Fred Angier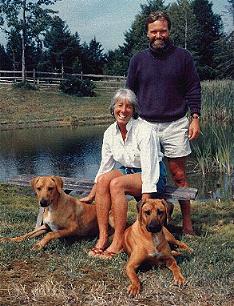 The Angiers are available to consult with you regarding color, details or design and will be happy to help you achieve your decorating goals with their artwork and/or their interior decorative painting skills. You are welcome to call for an appointment if you are interested in visiting with Hope and Fred in their beautiful home, or contact them with any questions at (207) 691-0770.